Goodbye billy waugh. there will never be another like you.
Billy Waugh Dies at 93
On April 4th, 2023 we said goodbye to our friend and legend, Billy Waugh. There will never be another like him, and we will continue to share his story and honor his legacy.
DEMO Reviewed in Knives Illustrated Magazine
"I put the Billy Waugh DEMO through a gauntlet of chores unsuitable for most folding knives. Not actual abuse, but riding that fine line."
– Rueben Bolieu of Knives Illustrated Magazine
READ THE FULL REVIEW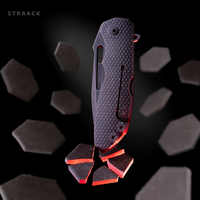 The Best Review of the DEMO Yet
This is not one of the usual knife reviews on YouTube - get ready to be wowed. ChoirBoyz Cutlery takes you on a review journey of the Stonewashed DEMO. He puts it through some legit in-the-field tests, but more importantly, shows you the various features in action and under stress.
If you are on the fence about if this knife becoming the next in your collection, watch this video. It should eliminate any doubt surrounding its capabilities and functionality.
watch the review on YouTube